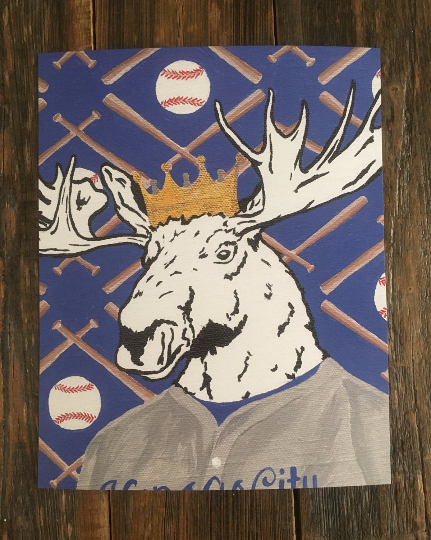 Mike - moose
I'm not gonna lie, I know very little about sports and even less about the people who play them. I might be the least competitive person in the world. I like to play sports, I just suck at them. I like to play games, just don't care if I win. I know, I know, how is this possible? Anyhow, being from the Midwest, I had to say yes when I was requested to paint this fan favorite inspired by Mike Moustakas. Very few people beyond Kansas City would be wearing one of their royal blue shirts until they finally had a shot to "take back the crown" and now it's not so embarrassing.
Looking to hang in a group? MIke the moose pairs perfectly with Olive the giraffe.
All prints are made by a local print shop on #100 Cougar Opaque Cover paper and look great in an 8x10 frame or matted in an 11x14 frame.