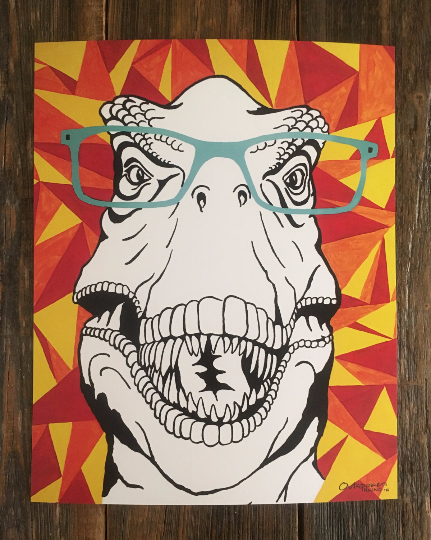 Ralph - Tyrannosaurs Rex
This is one of my favorites in the series. I saw this little movie in the 90s about some extinct dinos brought back to life for a tourist attraction and I was hooked! Throw in Chris Pratt in the last movie and they still have me hooked. Science is scary, the possibilities seem endless, lets just hope bringing back dinosaurs isn't on the agenda. EEEK! This dinosaur is a reflection of me with his turquoise glasses and geometric triangle background. Random question: if a dinosaur needed glasses, how would he put them on? Definitely not with those little arms.
Looking to hang in a group? Ralph the Tyrannosaurs rex pairs perfectly with other reptiles like Ferdinand the veiled chameleon and Lou the baby alligator.
All prints are made by a local print shop on #100 Cougar Opaque Cover paper and look great in an 8x10 frame or matted in an 11x14 frame.